Introduction for Manual Herb Soya Flour Herb Tobacco Grinder Machine:
1.This herb tobacco grinder machine is mainly used in pharmaceutical, chemical and food industry. Prohibit crushing inflammable and explosive materials. Prohibit crushing for metal items. Does not apply to bulk materials. Not suitable for crushing high water content, high oil content of the material, because the crush of water or oil it can form a paste-like material which can clog the screen, affecting the material, causing the material to stuck, boring machine phenomenon. This machine does not apply to all viscous material crushing, nor after heating the soft and sticky materials.
2. We also have the cooling type soya flour grinder machine, which can keep the machine in low temperature during working process.
We also manufacturing the Colloid Mill; Fruit Vegetable Processing Machines; Milk Processing Machines; Nuts Processing Machines, Meat Processing Machines etc.
Technical Parameters of Grinder Machine:
| | | | | | | |
| --- | --- | --- | --- | --- | --- | --- |
| Model | Voltage | Power | Capacity | Fineness | Dimension | Weight |
| GMS-MF180 | 220/380v | 2.2kw | 30-120kg/h | 10-120mesh | 480*530*1040mm | 75kg |
| GMS-MF250 | 220/380v | 5.5kw | 50-200kg/h | 10-120mesh | 750*600*1260mm | 180kg |
| GMS-MF320 | 380v | 7.5kw | 100-300kg/h | 10-120mesh | 780*800*1350mm | 260kg |
| GMS-MF350 | 380v | 11kw | 200-500kg/h | 10-120mesh | 800*900*1550mm | 320kg |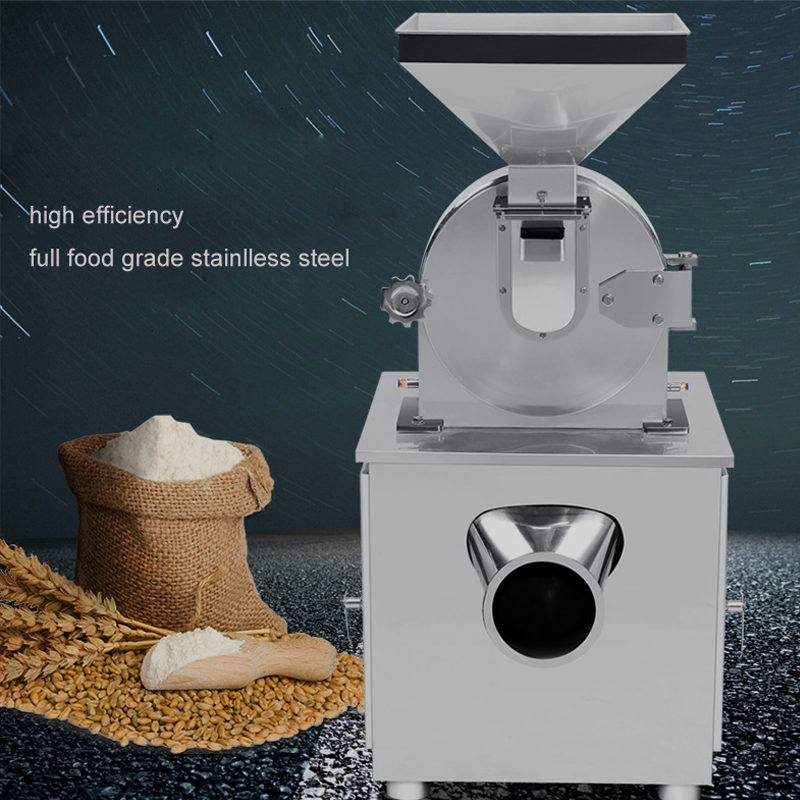 Large Types of Grinder Machine(with dust collector):
| | | | | |
| --- | --- | --- | --- | --- |
| Model | GMS-MFL15 | GMS-MFL20 | GMS-MFL30 | GMS-MFL60 |
| Power | 13.5kw | 17.5kw | 46kw | 84.15kw |
| Capacity | 30-200kg/h | 50-300kg/h | 30-500kg/h | 150-1000kg/h |
| Fineness | 80-400mesh | 80-400mesh | 80-400mesh | 80-400mesh |
| Rotation | 6000rpm | 4800rpm | 3800rpm | 2800rpm |
| Dimension | 4200*1200*2700mm | 4700*1250*2900mm | 6640*1300*3960mm | 7500*2300*4530mm |
| Weight | 980kg | 1300kg | 1500kg | 3200kg |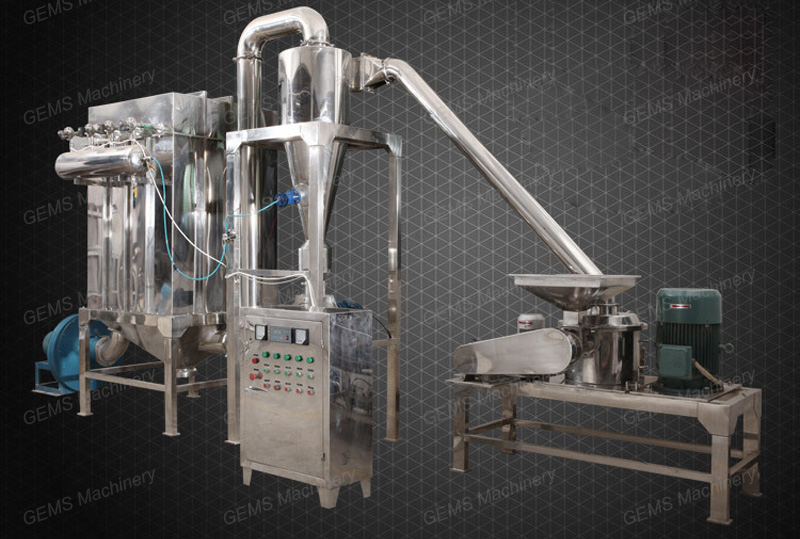 More Photos Display: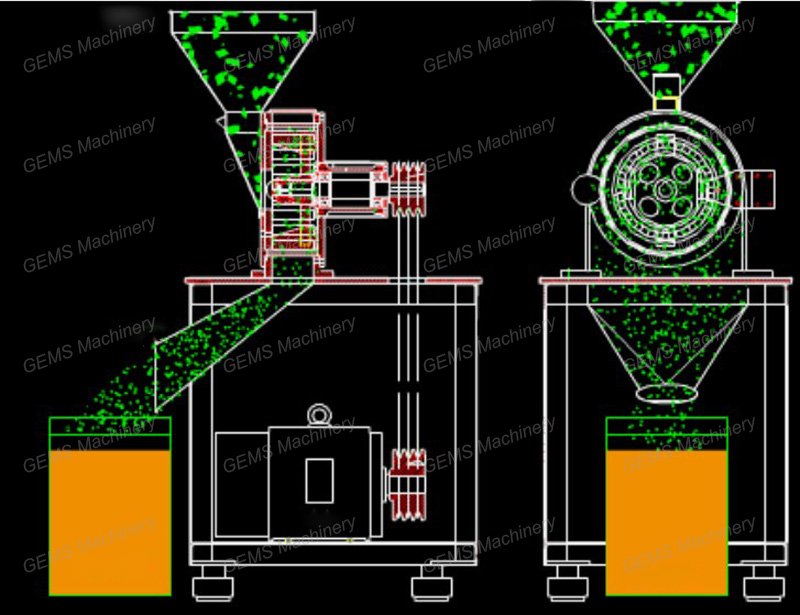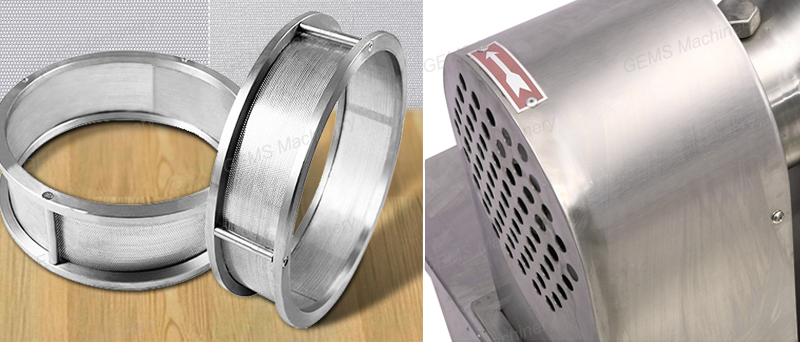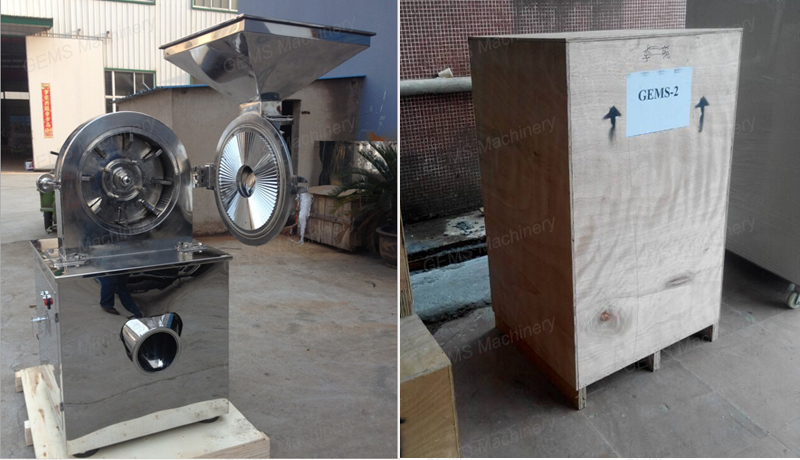 Processing Effect of Grinder Machine: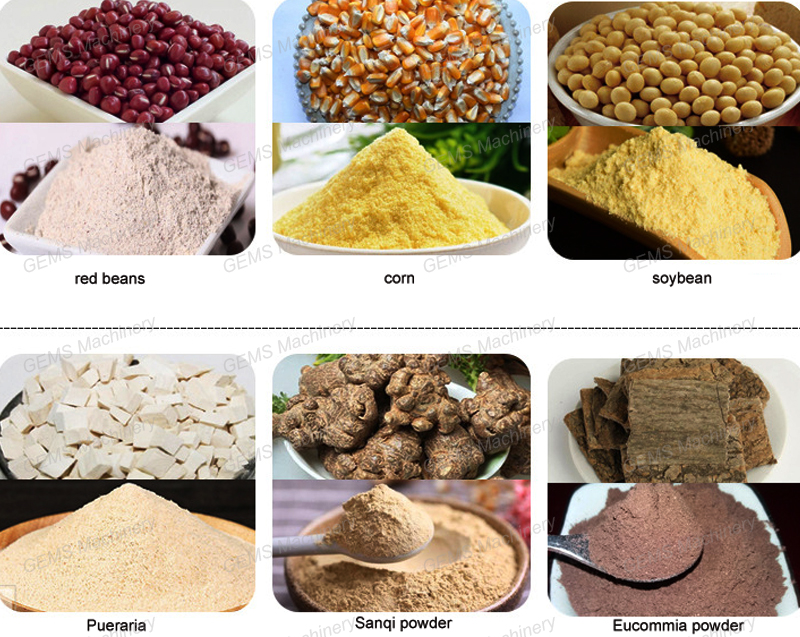 Small Type Coffee Powder Grinder Machine: