Electronic Cigarette Peristaltic Filling Pumps For 10 ml Bottle

The electronic cigarette peritaltic filling pump BT300FJ is a basic digital LED display filtration peristaltic pump.
With a max speed 300rpm and max flow rate 1140ml/min.
It can achieve the transfer function as the basic type liquid constantly transfer metering peristaltic pump, and also achieve the dispensing function as the bottle filling dispensing type peristaltic pump.
As a electronic cigarette peritaltic filling pump,this pump model can install with different silicone tubes,customers can choose the tubes size according to the flow rate.
Meanwhile, the peristaltic filling pump can achieve multichannel peristaltic pumps,normally we suggest 2 ,3 ,4 channels peristaltic pump with the external foot pedal.
This model of the transfer peristaltic pump with the economical cost and super high performance is destined to become one of the most popular models.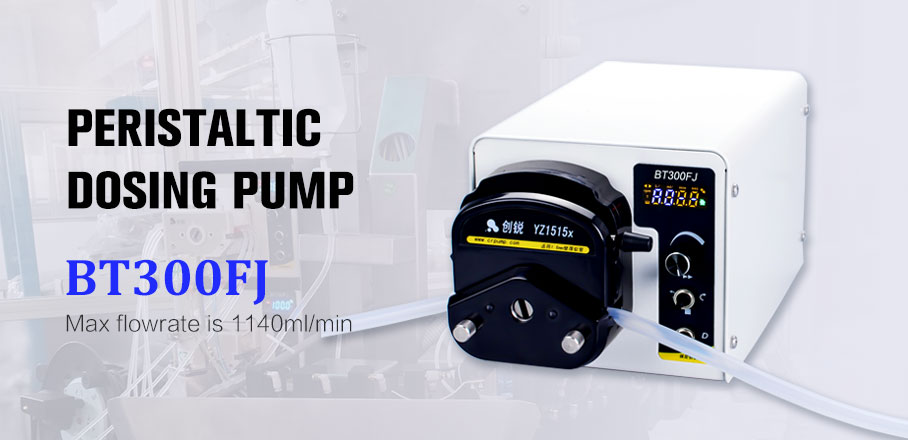 | | |
| --- | --- |
| Speed | 0.1-300rpm |
| Speed resolution | 0.1rpm |
| Flow rate | 0.007-1140ml/min |
| Display | 4-LED display |
| Speed control model | Rotary encoded switch control speed |
| Power supply | AC220V±10%(standard) or AC110V±10%(optional) |
| External control | Start & stop, direction control, speed control( 0-5v, 0-10v, 4-20mA optional ) |
| Communication interface | RS232 and RS485, support MODBUS protocol mode |
| Foot pedal | Yes |
Features:
1, Easy operate only need to power on, then you can use it
2, Easy load pump head, you can install and change the tube fast.
3, If you want to change the flow, only need to rotate the control knob on the panel.
4, Easy to control the direction by the switch on the panel
5, 4-Led display the current speed and work status
6, Support Multiple channels work, Which can meet your application to transfer several liquids at the same time.